About Us
Laguna Water Story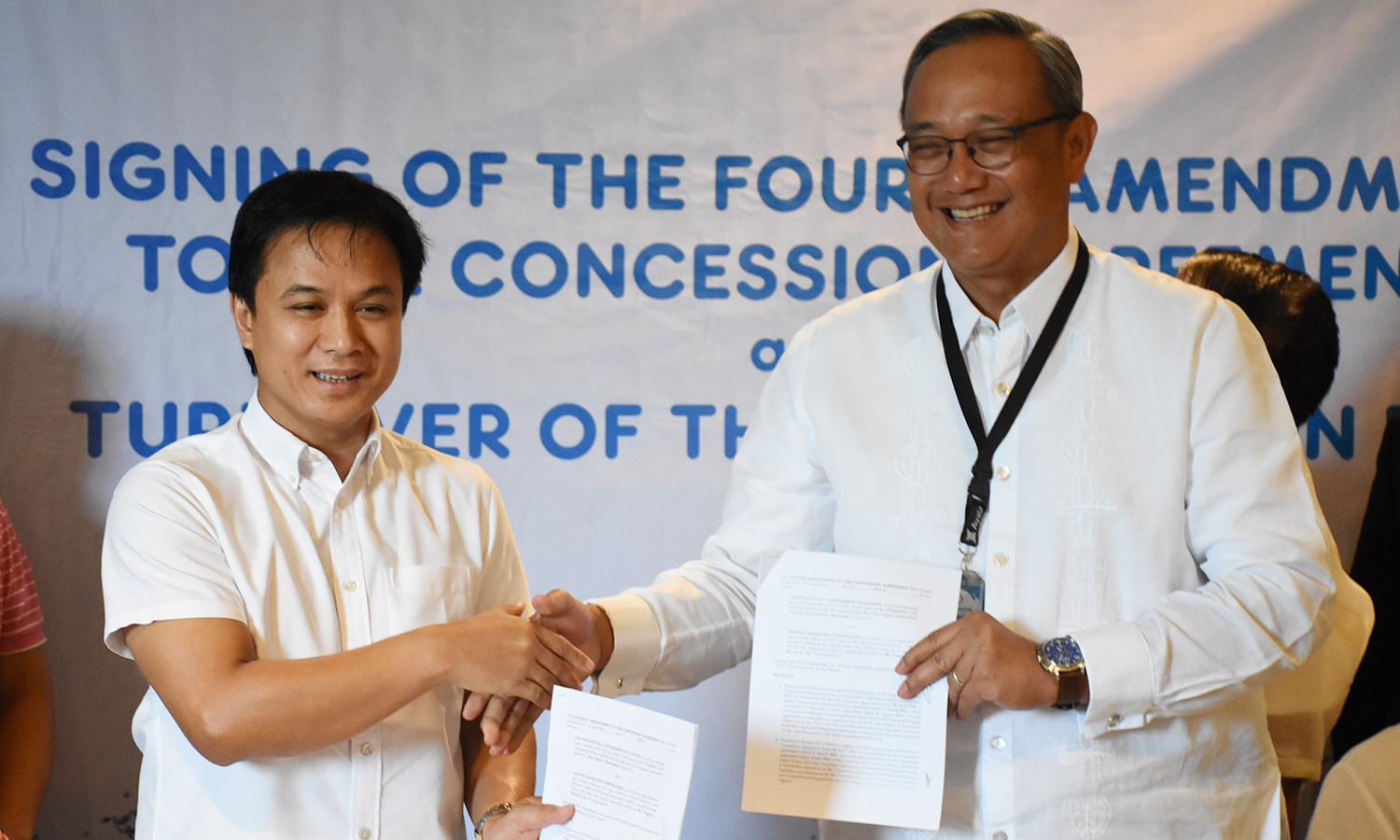 Laguna Water is the trusted water, used water, and environmental services provider created through a joint venture between the Provincial Government of Laguna and Manila Water Philippine Ventures (MWPV), a wholly-owned subsidiary of the Ayala-led water industry leader, Manila Water Company, in 2009. Currently, the company operates in the cities of Binan, Santa Rosa, and Cabuyao and the municipality of Pagsanjan. It also has presence in Alaminos, Calamba, San Pablo, Sta. Cruz, and Victoria.
When Laguna Water started in 2009, the company was given authority to manage and operate the water services in the cities of Binan, Santa Rosa, and Cabuyao. Prior to Laguna Water's operations, residents of these cities have been plagued with limited service coverage, high system losses, dilapidated infrastructure, low water pressure, intermittent water supply, and poor water quality.
Addressing these challenges, Laguna Water focused on improving its water service operations through various investments, including upgrades of water facilities, establishment of new water sources, and rehabilitation of water network. The company also employed various systems and process improvements, established strong stakeholder relationship, and equipped and developed its talents.
Over a period of ten years, Laguna Water succeeded in significantly improving service levels; thereby, ensuring that clean, safe, and affordable water is accessible and available to all.
Service coverage increased from 14% to 59% (from 17,721 customers in 2009, to over 100,000 households at present)
Improved water supply at 160 million liters per day from 11 million liters per day in 2009;
Uninterrupted and potable water supply is available at an average of 20 psi;
Significant reduction in non-revenue water from 48% in 2009 to 17% in 2018;
Water quality is compliant with the Philippine National Standards for Drinking Water of the Department of Health
The company's strong performance has opened new opportunities and partnerships. In 2014, Laguna Technopark, Inc. (LTI), one of the largest industrial zones in the Philippines, has turned over its water and used water operations to Laguna Water.
The significant changes that Laguna Water has brought in Biñan, Santa Rosa, and Cabuyao has gained the trust and confidence of the Provincial Government of Laguna. Hence, the latter authorized Laguna Water to offer water services to the entire province covering 27 other cities and municipalities in 2015. Further, the company's services was also expanded to include the provision of used water and environmental services, including but not limited to sewage and septage management.
In 2018, Laguna Water has officially launched its sanitation program titled Tamang Sanitasyon Equals Kalusugan, Kalinisan, at Kaunlaran ng Bayan (TSEK ng Bayan). TSEK ng Bayan is a three-pronged approach that aims to provide sanitation services to all social classes. This includes sewage management, desludging or septic tank cleaning services, and communal toilet or portable toilet solution.
Laguna Water has started its desludging services in September 2018. Septage collected from its customers are being treated at the company-managed Sewage and Septage Treatment Plant (LTI SSTP) in LTI. The LTI SSTP has the capacity to treat 11 million liters of sewage per day and an additional 70 cubic meters of septage a day. It is also the first treatment plant in the Philippines to utilize the Food Chain Reactor Technology from Organica Water, a leading used water solutions provider in the world.
As Laguna's partner in achieving sustainable development, Laguna Water intends to empower more communities through programs such as Tubig Para sa Baranggay (Water for the Poor), Lingap Eskwela (Water and Sanitation for Public Schools), Kabuhayan Para sa Baranggay (Livelihood Program), Information, Education, and Communication Campaign on Used Water, Pamilyang TSEK (Sanitation for Marginalized Communities), among many others.
Our Company
Laguna Water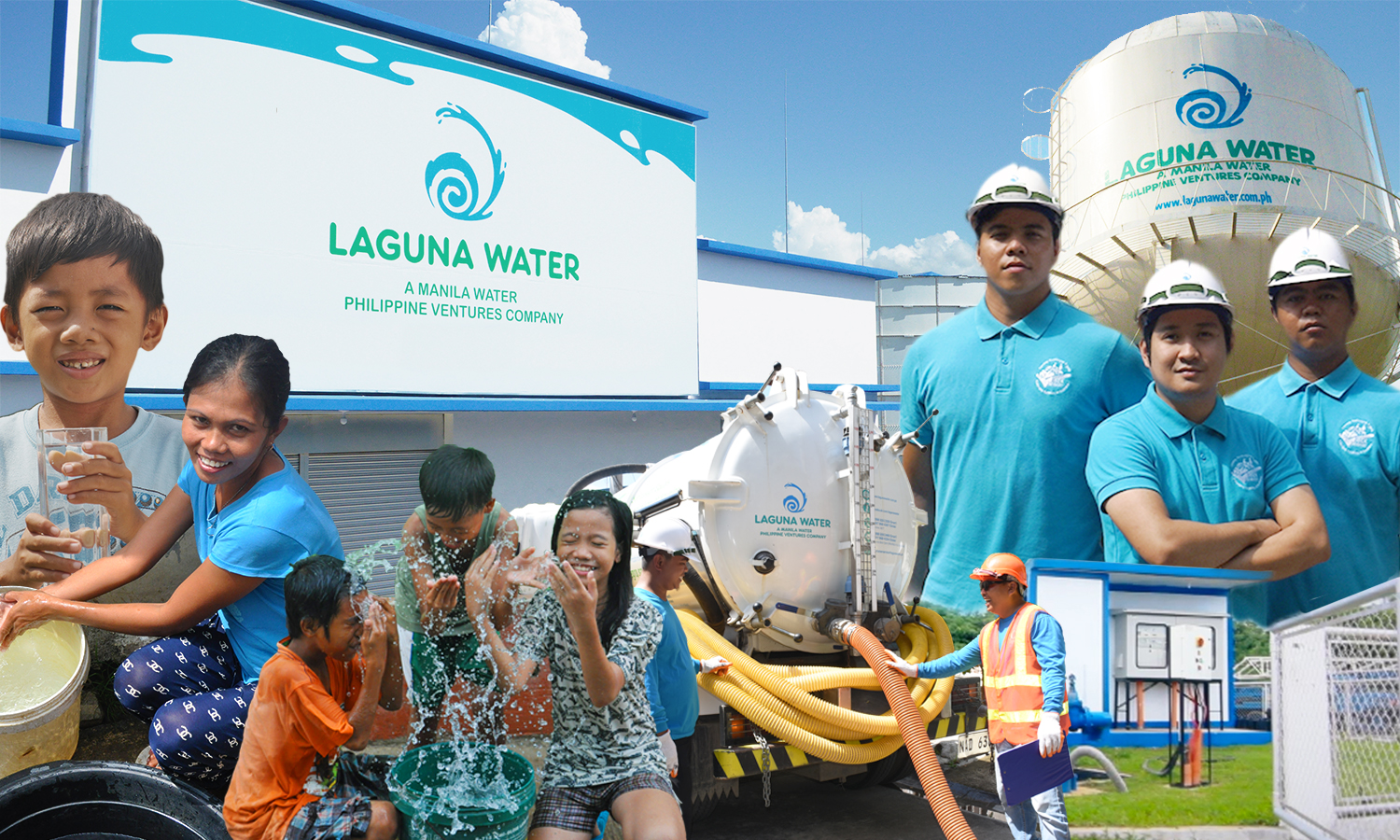 Laguna Water is the largest water, used water, and environmental services provider in the Province of Laguna with more than 100,000 service connections. The company attributes its continued success to its steadfast commitment to provide quality customer experience, strong network of industry partners, and wide knowledge and experience in water and used water operations.
Territorial Scope
Base Business
Currently, Laguna Water provides water, used water, and environmental services in the cities of Binan, Santa Rosa, and Cabuyao. The significant changes brought by Laguna Water in these cities led to the expansion of the company's territorial scope in 2015. From three cities, Laguna Water was given authority to offer its services to the entire Province of Laguna.
New Business Areas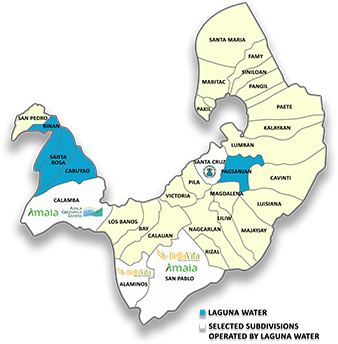 In 2018, Sangguniang Bayan resolutions was passed in the municipalities of Victoria and Calauan allowing Laguna Water to provide water and used water services to the said areas.
Last January 2019, Laguna Water signed a Joint Venture Agreement with Pagsanjan Water District. The JVA grants Laguna Water the exclusive right to implement the design, construction, rehabilitation, operation, maintenance, financing, expansion and management of water supply services and sanitation services in the municipality of Pagsanjan.
Laguna Water also operates in select establishments, subdivisions and communities in the following cities and municipalities: Alaminos, Calamba, San Pablo, and Sta. Cruz.
Laguna Technopark Inc.
Laguna Water handles the water operations and sewage management of Laguna Technopark,Inc. (LTI), one of the largest industrial zones in the Philippines housing more than 200 companies. LTI is located at Binan, Laguna.
Vision and Mission
Vision
Our vision is to provide the Province of Laguna with water, used water and environmental services which will empower people, protect the environment, and enhance sustainable development.
Mission
Our mission is to create an exceptional customer experience in the provision of sustainable solutions vital to health and life.
Core Values
Integrity and Primacy of the Person

We are a company of professionals whose unique roles and individual contributions toward corporate goals provide us with concrete opportunities to develop character and purpose in our lives.
Dignity of Work

Our company rouses a sense of pride and satisfaction in the fruits of our talents and efforts, which we place at Laguna Water's service, as part of a dynamic and well-knit team.
Pride in Excellence

We strive for excellence because turning out the highest quality products and services is the most fitting tribute to our customers and to our society, company, colleagues and ourselves.
Concern for Others

We believe that contributing to social development through the communities we serve and the natural environment that we help protect is the very essence of our corporate existence. Showing a genuine concern for the welfare of others is indispensable in the way we do our business.
Commitment to National Development

We strongly support all efforts towards the development of the economy and our nation in general, because we realize that the problems affecting our nation and society impact our company's own long-term viability.
Leadership Team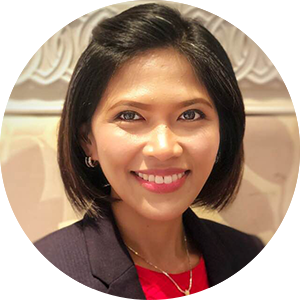 Shoebe Hazel Caong
General Manager and COO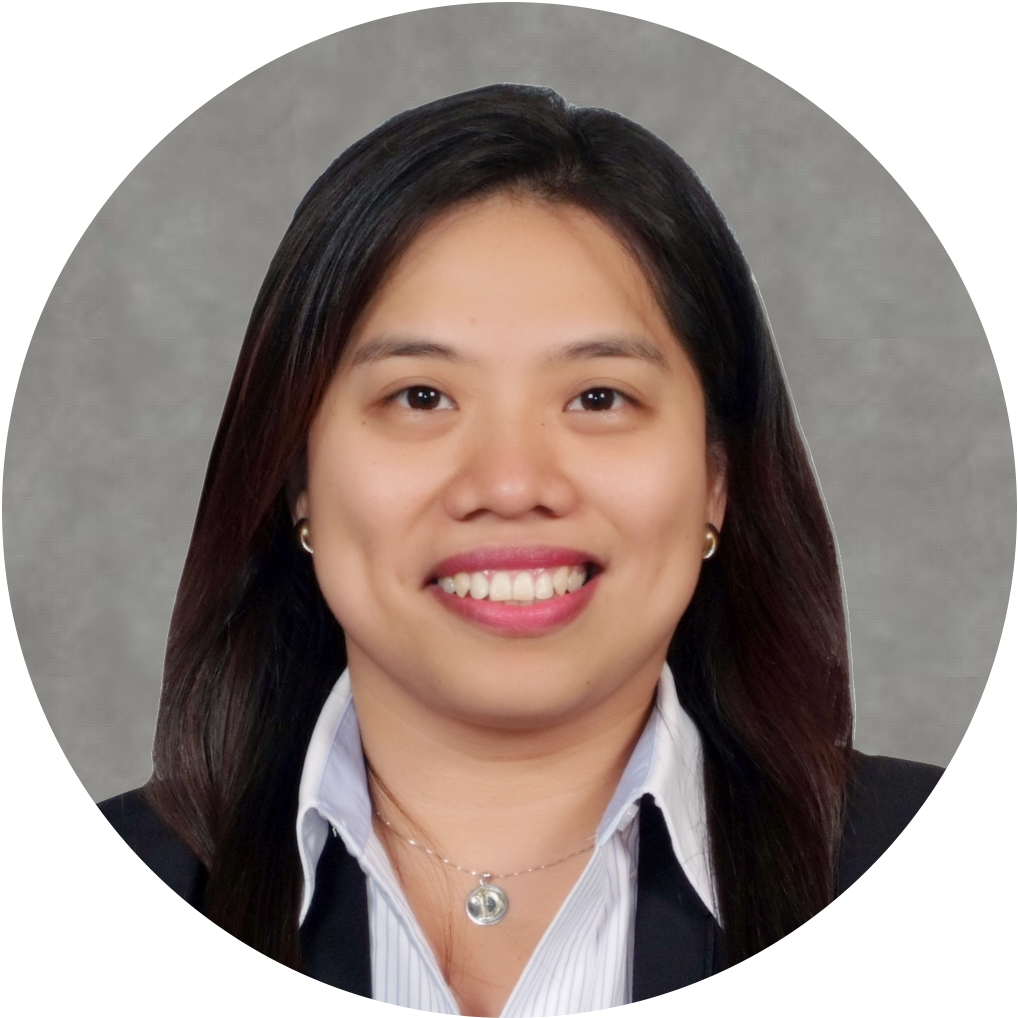 Ma. Lourdes M. Dalusung
Finance Head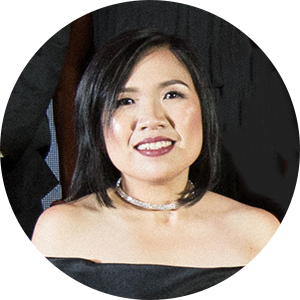 Camille Orbeso
Business Operations Head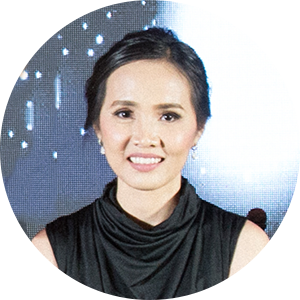 Sol Teresita Dimayuga
Regulatory and External Affairs Head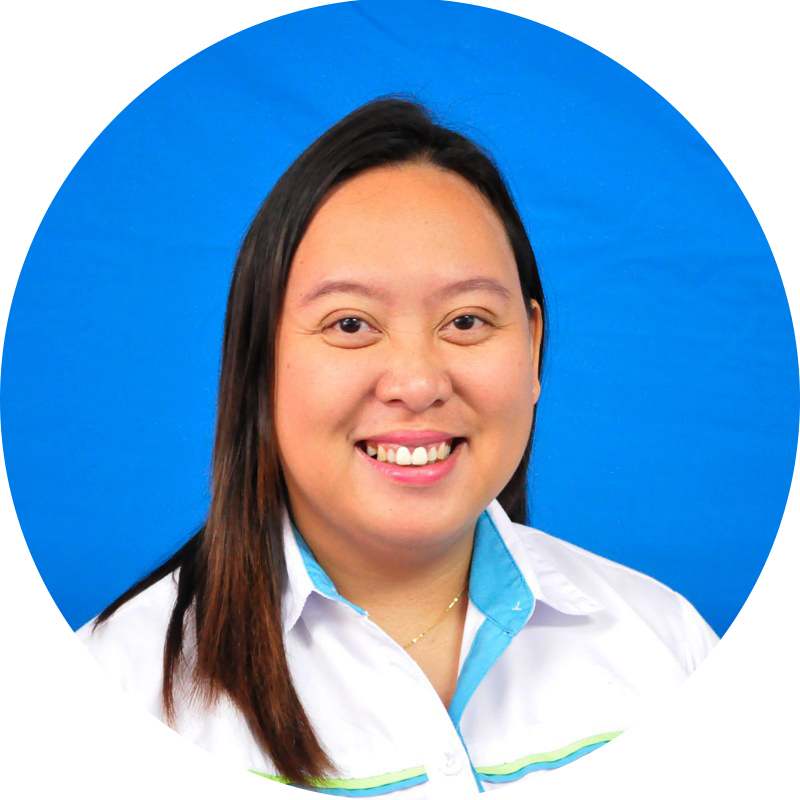 Melissa A. Alcasid
Technical Operations Head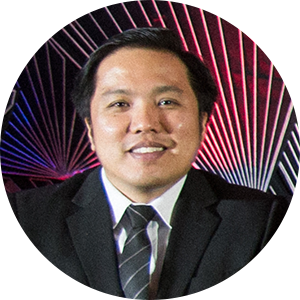 Rodel Del Rosario
Technical Services Head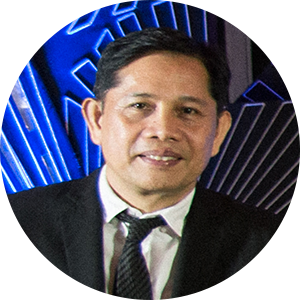 Felipe Fradejas
Project Management Head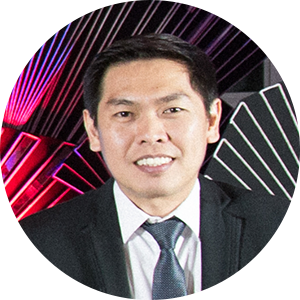 Francisco Loresco
New Business Head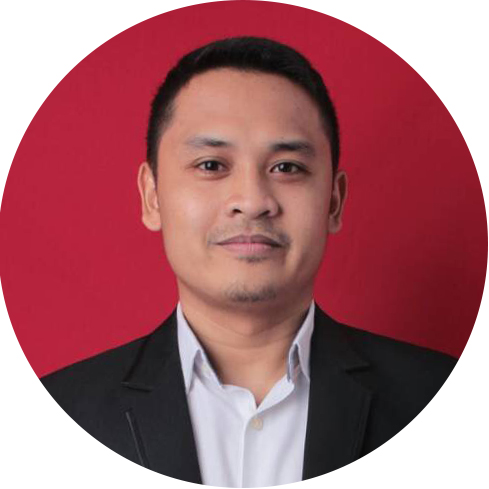 Yves P. Barbasina
Human Resources Head
Awards and Recognitions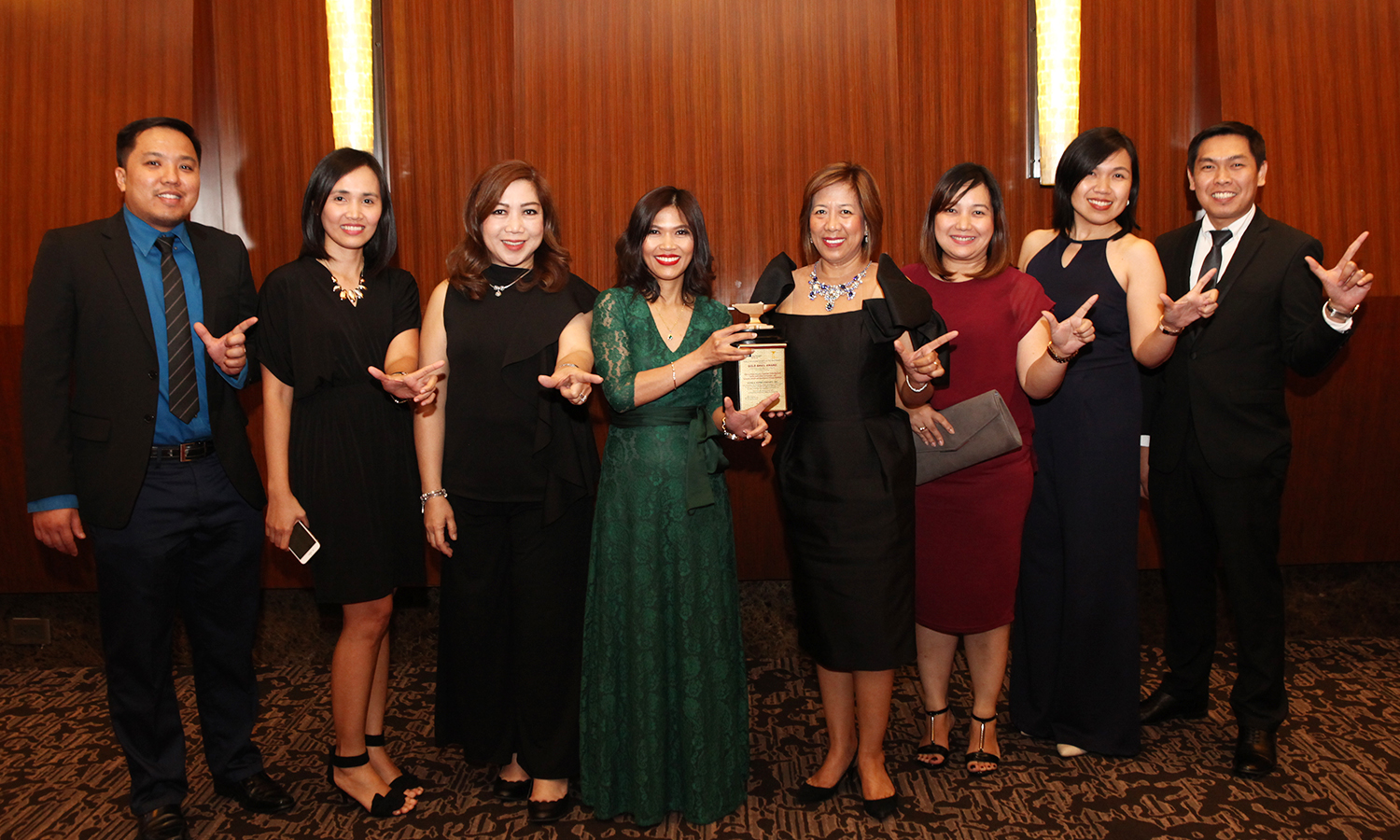 2020
SILVER ANVIL AWARD
Lakbayan: Understanding the Water and Used Water Trail
SILVER ANVIL AWARD
Sewage and Septage Treatment Process Video
2019
GOLD ANVIL AWARD
TSEK NG BAYAN ADVOCACY CAMPAIGN: Reflecting Good Health, Sustainable Environment, and Economic Growth and Development
2018
SILVER ANVIL AWARD
TSEK NG BAYAN: TAMANG SANITASYON EQUALS KALINISAN, KALUSUGAN AT KAUNLARAN NG BAYAN
Public Relations Society of the Philippines
2017
SILVER ANVIL AWARD
YOUR PARTNER TOWARDS TRANSFORMATION: THE LAGUNA WATER STORY
Public Relations Society of the Philippines
SILVER ANVIL AWARD
REACHING MORE COMMUNITIES IN LAGUNA: THE INAUGURATION OF THE LAGUNA WELL FIELD
Public Relations Society of the Philippines
TOP 5 IDEAS FOR ACTION
PORTABLE TOILET SOLUTION (PTS): SUSTAINABLE SANITATION FOR THE BASE OF THE PYRAMID
World Bank Group and the Zicklin Center for Business Ethics Research at the Wharton School
2016
GOLD ANVIL AWARD
MAKING WAVES: THE LAGUNA WATER STORY
Public Relations Society of the Philippines
SILVER ANVIL AWARD
FOUNTAIN FOR THE YOUTH: IMPROVING ACCESS TO CLEAN WATER IN PRIMARY SCHOOLS IN LAGUNA
Public Relations Society of the Philippines
2015
CASE STUDY WINNER
PUBLIC-PRIVATE PARTNERSHIP SHORT STORIES COMPETITION
World Bank Group and Public-Private
Infrastructure Advisory Facility
GOLD ANVIL AWARD
TUBIG PARA SA BARANGAY: ACCESS TO CLEAN SUSTAINABLE WATER SUPPLY MADE EASY
Public Relations Society of the Philippines